Last night there was a Hot Chip show at the Greek Theatre here in Los Angeles California, which I attended.

Ween
A million years ago, there was a band called Ween. In 1994 I created a Ween fan website at ween.org, and saw them live a few times. I went to work at MTV in 1995. I was hired there largely because the guy hiring was a Ween fan and he knew my site(s) and who I was when I showed up for the interview. And also because I kick ass.
Once at MTV, I'd get late night phone calls from Mickey (Dean Ween, for the uninitiated) and I would help him with HTML and other stuff. He wanted to have a large online presence and put up lots of Ween tracks and stuff, and so did I, so of course I helped when I could. I got to know Mickey and Claude (Ween drummer and more, Claude Coleman Jr.), and to this day I'd say I'm still a Ween fan even though they don't exist and even though I have a more complex relationship with some of the guys. I love their music and they were a great live act and I'm still a fan.
The Ween juggernaut ended a few years ago, and now there are two half-Weens. I saw Aaron (Gene Ween) live at The Roxy in Los Angeles last October. I was hoping to see the Dean Ween Group when they came here but then they never came here because I think they hate the West coast or something. Mickey randomly called me a month ago or so to tell me I won a bet for him, and he told me to keep the new number but then my phone had something happen to it and I lost my phone log and the new number. I also forgot to ask him if he hated the Best coast because I had to get off the phone quick. He called when I was chopping onions. Then just now I looked at the tour dates and they were here in July. What a tool I am.
Hot Chip
In 2004 I heard this record called Coming on Strong by a band called Hot Chip. They name drop Gene and Dean Ween in this song:
Me and Ulysses, we're like Gene and Dean Ween / We're like brothers making records who can't play things
The album, I think their first, had a DIY low-fi early Ween feel, and I really really liked it. Two singers, sense of humor, different genres, I was game. Since then, I've purchased every record they put out. I listen to them a lot, maybe too much. (Is it weird that I communicate with many of my local friends exclusively though the comments on a post I made on Facebook months ago about Hot Chip's Huarache Lights video? Not at all, right!?) I love the sense of humor and playfulness present in many of their songs, sometimes subtle and sometimes overt, sometimes musical and sometimes lyrical, and combinations thereof. Occasionally there's just a completely serious ballad or what have you. And also like Ween, they've gotten better and better at expressing themselves musically over the years, so there has been real growth. The music is simultaneously the same but different. They learned to play their things.
Alexis's voice is like magic to me. In a recent article I can't find, someone described it as sounding like the Last Astronaut in Space, and I feel that. (Update: it was actually The Universe's Loneliest Astronaut, also good.) I've cried listening to his voice and I don't cry when I listen to voices much. Like I've been in a certain mood and listened to a Hot Chip song that was powerful enough to bring me to tears and then it has a drum break where the sounds they chose are funny and then I'll start laughing while I have tears on my face. Now, with Hot Chip being a pop band this might sould like I'm just getting insane as I get older, but I think it's a lot more than that. I'm sure age and having a kid has opened me up more emotionally, but I've never really had this range of emotion while listening to most pop music. I've read comments on Hot Chip stuff over the years, and people will say "he has no voice" and "get a new singer" and fuck those people. Seriously.
Also Sarah Jones is like my favorite drummer at the moment. She's in or works with about 45 bands and she's great. The live drumming adds a lot to the electronics, and she really knows how to make that work. Her presence on their newer studio material really deepens and humanizes those songs. I won't go on too much about Sarah Sausages because I won't know when to stop and then it'll get weird. Related to "live drummer," here's an interview with Joe Goddard where he mentions not wanting to squeeze the humanity out of things with electronics. Joe is sort of described as "Hot Chip grumbling vocalist #2" in that article, which is sort of funny I guess. I like his voice, it just hasn't ever made me start weeping.
The Greek Theatre
I wanted the show to bombastically start right as I got out of the hired car, announcing my arrival, so I got there at 9:15pm exactly because I know that Hot Chip is punctual and they were to start at 9:15pm according to the Greek Theatre website's event information.
I was slightly let down because they had started early, as a song was ending when we pulled up out front at exactly 9:15pm.  According to this Instagram post, they were scheduled behind the scenes to go on at 9:05pm, which they probably did being punctual and all, and this is my only tiny complaint. Guys, this is America, we litigate for less than this. From the online set list, looks like I missed Huarache Lights, and One Life Stand was wrapping up when I non-bombastically exited the car.
They put on an amazing, tight live show. I've watched a few of their shows online, so I sort of knew what their show was like, but it's always better to see music live, in my opinion. Many of the Hot Chips move around from instrument to instrument during the show, it's like "hey this song has steel drum in it" so the LCD Soundsystem guy puts the guitar down and moves to the steel drum and Alexis picks up a guitar because that's what he's doing on this song. Actually, I'm not even going to try to describe the show, other than to say it was great great great.
Funny thing…
I almost didn't go. I was offered two tickets by a friend (hey, you like these guys, take these!), so I was going to go with my wife but then the short notice and the fact that we have a son got in the way which ok. So I told her well I'm not going to go then, and then I was acting all weird and then she said, "I love you but you are not thinking straight – you love these people so go. see. them." So yeah she's right, I guess she's smart or something.
I went with my friend that had offered the tickets, as she had decided she was just going to go by herself. She has the same birthday as me but is much older and just turned 60. (Women like it when you out their age, right?) I am pretty sure she was the oldest person there and I think I was maybe the 11th oldest person there (47, how'd that happen?) which doesn't mean anything but am starting to enjoy being the oldest person everywhere. An aside, I can't figure out where all the other old people are/go?
The seats were like Section A Center, pretty close. This is where I insert a mobile phone photo to illustrate how far we were from the Hot Chip.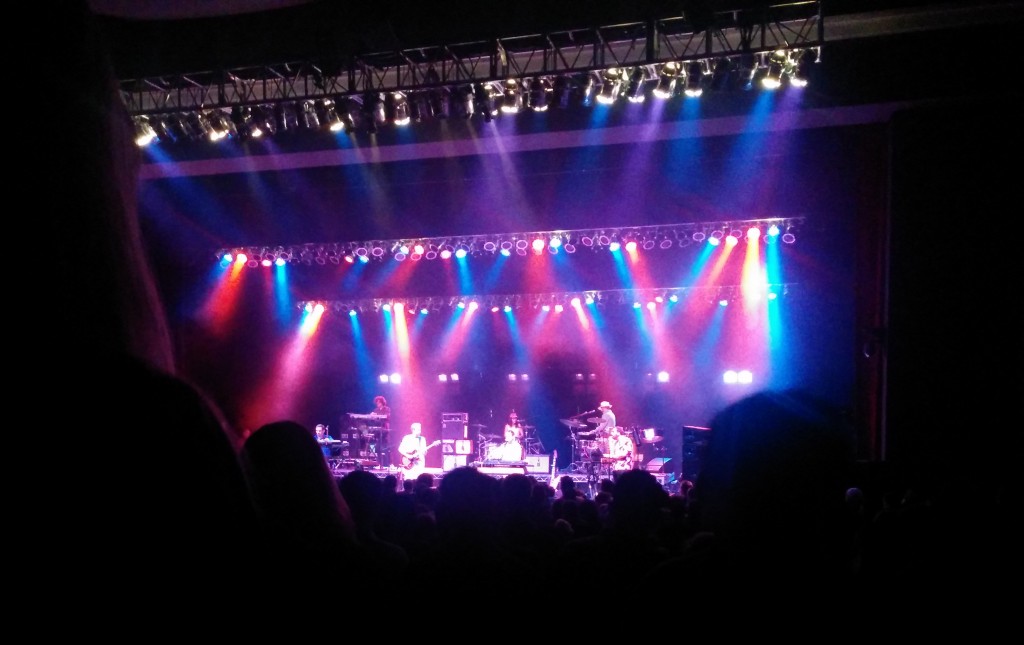 GREAT SHOW! GO SEE THEM IF YOU HAVE THE CHANCE!
I was complaining to my friend about the whole encore process, how that was invented at some point and now at basically every show you have to go through this process and how weird it all is. She was explaining to me how part of being a performer is this desire to have a certain kind of attention blah blah blah and then they got back on stage and Joe made a joke about how they were going to leave but then they heard our clapping and so they decided to come back and play a few more songs.
During the encore Money Mark and David Pajo came out, and they ended by covering Bruce Springsteen's "Dancing in the Dark" which morphed into LCD Soundsystem's "All My Friends."  It is therefore a good thing that Al Doyle was in both bands at the same time for years. Also, it's cute the way he talks about being in his late 30s. Just wait man, just wait.
So it was fun being old, then afterward I walked down Vermont and ate macaroni and cheese balls with brisket chili on them at a place called Fred 62 and then took a bus home at 1am.
That's all go see them and listen to their stuff if you haven't. And Mickey, call me again so I have your number some more.
---
A photo:
https://instagram.com/p/6RcbZ6vj80/?taken-by=insidiousforce
And here is a very short clip of Alexis being laid back:
https://instagram.com/p/6RrQ9vPj2T/?taken-by=insidiousforce
And here is a Hot Chip vending machine