This morning, I was invited by my friend Rocco to join him in his journey to La Azteca Tortilleria to purchase and eat the Best Burrito in Los Angeles (according to LA Weekly). It won best burrito in 2012 and it gets mentions in 2013 and 2014 on the best and essentials lists. Maybe it won in other years or other publications, but I am not going to do any more research.
At the preset time of 10:45am, The Street's Rocco Pendola™ stops by my place to pick me up so that we can begin our journey eastward. After wrangling my cat indoors for 5 minutes, I jump in the car. "First things first," says Rocco, "I need to get my car washed."
Well, his car was filthy, so I say sure, no problem. Then this:
Yes, Rocco drives a Prius but he isn't one of those smug assholes that drives a Prius so it's all good. Though it does take a while to get the car through the car wash, long enough for me to peruse the energy drink selection and purchase and consume a Red Bull. After that super exciting distraction, we are off to get our burritos.
Forty or so minutes of driving/flying later (Red Bull gives you wings, remember) we arrive at the restaurant. Easy street parking, and in the window there's a giant sign about how they have the best burrito in Los Angeles California, so we know we're in the right place. Here's the sign!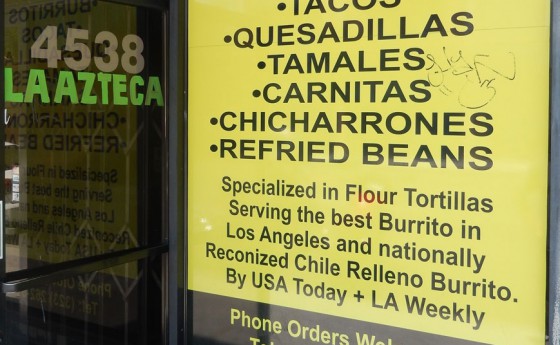 We walk up to the door, but there's a gate closed across it. We hear noise inside, so there are obviously people working there. It opens at 6am so hey, it's gotta be open. Off to the left is another door, so we walk in and we take a seat. We order burritos — I decide to order the "nationally Recognized Chile Relleno Burrito" and we get a side of 2 tacos to split.
As we begin eating our food Rocco says to me, "This burrito is good, sure, but it's not the best burrito in Los Angeles. Or maybe it is! San Francisco has really good burr…" and then I tune him out because he's yammering about San Francisco.
I'm sort of confused too, because my burrito is decent, but I've had better even here in Los Angeles. And the reviews on Yelp have stuff like this in them:
"

Hands down the best Burrito joint there is in Los Angeles, and I know – I've tried them all!"

"

This burrito should be named 'Little Piece of Heaven.'"

"

I am giving them nothing less than five stars, if I could give 6 stars I would."

"'

Best burritos in Los Angeles' is quite a title to live up to, but believe the hype. La Azteca's got it."

"This place is the best!!!! An amazing Home made flour tortilla, stuffed with a fresh incredible rellano…"
Yeah ok, I get it. Only I don't get it.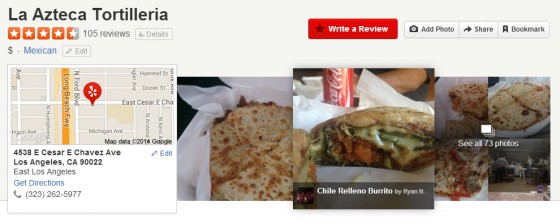 So in this next scene, I'm looking at my phone and reading all of this stuff on Yelp and trying to square it with the decent but not awesome burrito I'm eating:
I'm sitting here at the table, chewing my food, remembering some of the many times I've been let down by going to some place that some publication says is the best. I begin to think about how many times since moving here that I'd see a random place in some weird strip mall, go in and look at the menu, and based on the menu and the smells and the people working there decide to eat there, and how most of the time that will result in some pretty awesome food. How there is great food all around the city of Los Angeles.
Then I start thinking hey, I like Fox Sports Radio Personality Rocco Pendola, but I'm going to have to break it to him that I'm not going to trust his sources anymore and let him know that I have a better way of finding good food, one that he may not be happy about. Then I worry about our new friendship, and wonder if it's strong enough yet to handle this.
Suddenly, one of the Mexican guys at the next table turns to us and says, "Hey hombre!" to which I reply "Hey hombre I'm 'Ye' so you too low." The tension escalates as Rocco wonders why the fuck I'm quoting Kanye West.
Actually no that didn't happen, what did happen is one of the guys at the next table looks at us all bemused and says, "Excuse me, I was just wondering, did you guys come in here because you were trying to go next door and it was closed?" It had been just long enough from when we entered that I'd forgotten that whole thing with the doors and the gates, and of course I don't want to seem like some stupid gringo food tourist (which I'm obviously not, duh) so I say, "Mmm? We were just looking for a place to get lunch and this looked good."
He continued to look bemusedly at us, and then the other guy slowly turns his head and also starts looking at us in a bemused fashion. All of the bemused looks were sort of getting to me, so we paid and left.
Let's look at that entrance again: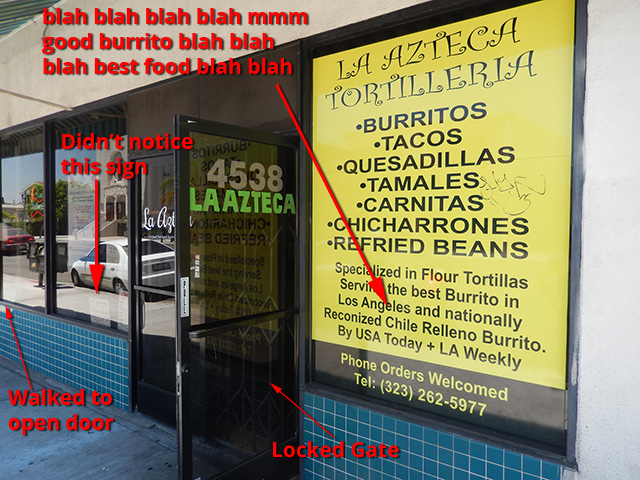 So yeah, we went to the wrong restaurant. And the burritos were good, they just weren't the best in Los Angeles California. Apparently we went to…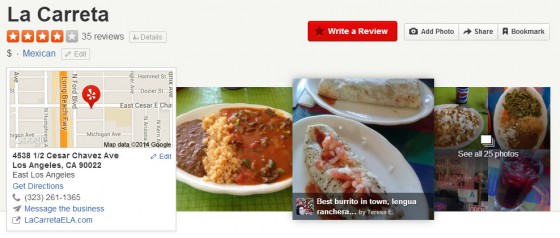 La Carreta Restaurant, located at 4538 1/2 Cesar Chavez Ave.
If you want The Best Chile Relleno Burrito in Los Angeles California, go to La Azteca restaurant at 4538 Cesar Chavez Ave. It's closed Mondays! It's probably good! Let me know if it is, and I'll tell Rocco.
Update August 15, 2014: Rocco Pendola has written the sequel to this blog post. View it at Rocco Pendola Presents: The Best Burrito In Los Angeles (So Far)
See also: